History of The Kinema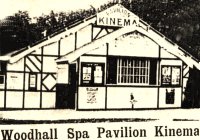 The Kinema in the Woods started life as a sports and entertainment pavilion dated from the late 19th Century. The pavilion sat in the grounds of The Victoria Hotel, looking over tennis courts, croquet lawns and gardens, until The Victoria Hotel burnt down on Easter Sunday 1920, this led to the relationship between the hotel and the pavilion being severed.
In 1922, Sir Archibald and Lady Weigall purchased the Victoria Hotel ruins including the sports pavilion and, with the assistance of Captain Carleton Cole Allport, the pavilion was transformed into a cinema which opened its doors on Monday September 11th 1922 at 7pm. The first film to be shown was intended to be "The Lion Eaters", however the film failed to arrive and a Charlie Chaplin film was shown in its place.
Due to the roof trusses in the building, which are too low for an image to be projected from the back of the auditorium, films in Screen One at The Kinema are projected from behind the screen and on to a mirror to flip the image. This is then shown on the back of the screen. The Kinema is believed to be the only full-time cinema in the UK still using rear projection.
Most of the auditorium (the current Screen One) was fitted with tip-up seats, however the front six rows were deck chairs. These seats were much sought after at at 1s 6d (other seats ranged from 1s 3d to 6d). The deck chairs remained in The Kinema until 1953.
The first sound projector was installed in The Kinema in 1928 and was replaced in 1978 by two electronically controlled projectors.
Major C. C. Allport ran the cinema for over 50 years, until 1973 when it was taken over by James Green who also owned a cinema in Stone, Staffordshire and later owned and ran cinemas in Spilsby and Mablethorpe.
In June 1987 Mr Green installed a Compton Kinestra organ in The Kinema, which features an ornate lacquered red and gold console with an eighteenth century oriental design. The organ is still situated in Screen One and played regularly by The Kinema's resident organist, Alan Underwood .
A 92-seat auditorium, Kinema Two, was opened on Friday July 8th 1994 with a screening of "Four Weddings and A Funeral". The auditorium walls of Screen Two depict scenes of rural Lincolnshire in trompe l'oeil style painted by Canadian artist Murray Hubick.
In June 2019 a Third Auditorium was opened, with a screening of the film "Yesterday" to an invited audience, followed by Kinema 4, an intimate 21 seater auditorium in October 2021.
The Kinema in the Woods remains a privately owned family business and is open every day of the year except Christmas Day.